Apple pie is one brilliant dessert category which contains the goodness of one of the healthiest fruits of all time in the form of smoothest and most scrumptious sweet recipe ever. This pastry preparation generally came in our dining table from the vintage American culture since the late 17th century and consistently delighting us till today!
You can prepare an apple pie in various processes using different ingredients, but most of them use double top and bottom crusts which help the inside-fluid stay in place properly and make the taste wonderful. So, let your culinary skill try in this old tart category with any of these below-mentioned apple pie recipes and make any of your celebration more delightful in a vintage way-
Now, take a close look at the brief details of these extremely scrumptious and easy-to-make apple pie recipes along with their proper cooking methods-
1. Simple & Easy Apple Pie
It is one of the commonest and easiest apple pie recipes which mostly made with a thick & crust top pastry layer along with a super soft apple-stuffed filling. This recipe is the best pick for an evening snack and takes less than one hour to be prepared.
Simple and easy apple pie recipe Betty crocker
2. Beautiful Lattice Tie Apple Pie
This lattice tie apple pie may look intricate but actually in need no extra effort to be made than a usual apple pie and taste even better than the regular ones. The top crisscross pattern basically introduced in the ancient countryside areas of America and giving us a classic vintage resemblance till now.
Old fashioned lattice apple pie recipe bonappetit
3. Tasty Mc Donald's Apple Pie
Well, Mc Donald prepares their apple pie in a different way than the normal type and this little twist makes this tasty pastry even more tempting to an apple pie lover. The most amazing part is that this pattern actually takes no additional equipment or extra effort to be made, and you can easily make it in your own kitchen!
Mc Donalds apple pie recipe the daily meal
4. Apple pie from the scratch
This is one brilliant apple pie recipe which serves best with a scoop of ice-cream and tastes totally lip-smacking with the combination of crusty & juicy apple pie slice.
5. Cheddar Crust Apple Pie
The top crust of an apple pie holds a large portion of taste and thus, you need to choose the ingredients more carefully when it comes to the matter of experimenting with this old American dish. This unique apple pie recipe from Martha Stewart will show you how beautifully a cheddar crust layer apple pie could melt your mouth with an unforgettable flavor!
Cheddar crust apple pie recipe marthastewart 
6. Deep Dish Lemony Apple Pie
Well, you can merge any other fruit in this dish with apple extract to twirl the taste more temptingly and this scrumptious deep dish lemony apple pie is a perfect example of that.
Deep dish lemony apple pie bare foot contessa
7. Apple Pie in Mini Mason Jar
This is a whole new pattern of making apple pie with a unique and chic look. This is one of the coolest apple pie preparations where you can make several pies in a small pattern rather than making one large tart.
Mini Mason jar apple pie recipe purewow
8. Crispy Caramelized Apple Pie
This recipe could give you a mind-bobbling flavor of apple pie with a super crispy top crust and chewy caramel layers along with healthy apple extract filling. If, sugar is not a problem with you then, try this supremely delicious apple pie recipe once in your life to know the real color of a caramelize dessert!
Crispy caramel apple pie recipe bake eat repeat
9. Apple Pie Taquitos
Well, this is a new pattern of modern apple pie recipe where the taste of pie comes in a shape of taquito but provide the same amazing tang of a tasty tart in a soft texture.
Apple pie taquitos Jo cooks
10. Golden Brown Apple Pie in Apple Shell
This recipe is considered one of the most vigorous apple pie preparations, which contains the goodness of a whole apple along with the rind as well.
Hallowed apple shells golden brown apple pie at eating well
11. Fresh Cranberry Apple Pie
It is one good treat for fruit lovers in which you can get the freshness of berry fruits and healthiness of apple in one receptacle along with the extraordinary taste of pastry crust.
French style cranberry apple pie recipe pillsbury
12. Caramel Apple Pie Cookies
Apple pie cookies are one of the all-time favorite snacks of any sweet lover, where the crunchy cookie layer cover the juicy pie filling brilliantly and simple mesmerize our mind with every bite.
Sticky chewy caramel apple pies at omg chocolate desserts
13. Canadian Cheddar-Crust Apple Pie
This is another supremely tasty apple pie recipe using cheddar as the top crust, but only has a different exterior than regular pie recipes.
Canadian Cheddar crust apple pie canadianliving
14. Crunchy Apple Pie Nachos
This is a good choice for crunchy snack lovers where the succulent apple pie filling tastes almost divining with the crispy nachos and provide even more detecting feel with some spoonful of creams.
Easy apple pie nachos tipbuzz
15. Apple Pie Bread Pudding
Well, this is a magnificent apple pie recipe where the goodness of fruit comes with the combination of healthy carbohydrate and robustness of honey on the top.
Apple pie bread pudding at tasty
16. Apple Pie Egg Role
If you are not a vegan and always love dessert in the pack of non-veg items then, this is the best pick for you as a tasty gee-based dessert.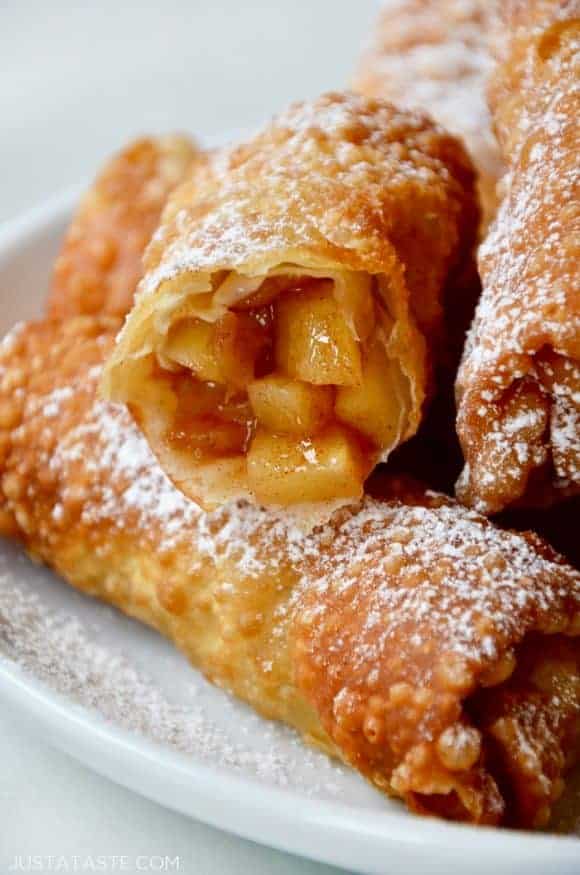 Apple pie egg rolls just a taste
17. Yummy Fried Apple Pie
Fired apple pie is not much healthy as the normal apple pie preparations but, it definitely tastes more tempting than the other equivalents.
18. Fried Apple Pie with Ice Cream
This twisted apple pie recipe not much different from the above one, but the unique exhibit and tasty ice cream scoop could make this one mouthwatering for anyone.
Yet another fried apple pie recipe shays kitchen
19. Baked Apple Pie Donuts
This is one great apple pie recipe which is one of the most popular desserts for vegan and the baking preparing method make this one even healthier too!
Baked apple pie donuts holy cow vegan
20. Baked Apple Pie Dumpling
Another great apple pie recipe with the goodness of baking and what is more delighting is its unusual resemblance along with the curved crust and icy topping.
Baked apple pie dumplings at tasty